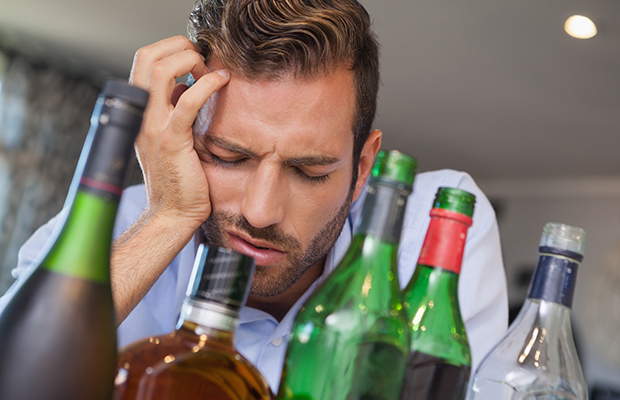 10. THURSDAY, OCTOBER 27
What led it to it: More of a "feelings" hangover than a physical one. Woke up and realized that I had gotten wasted and blacked out through the entire Alice Cooper show the night before.
9. FRIDAY, OCTOBER 14
"I went home and tried to fight the massive hangover, but I couldn't. Took a nap, didn't do anything."
What led to it: After Hazzard's Cure practice, we all went to The Hemlock to see Helms Alee, I got wasted there, went back to the Mission, got more wasted, did drugs.
8. SATURDAY, MARCH 26:
"Woke up to a profound hangover. It took a lot to get up and do anything."
What led to it: Went to see Satan at the Elbo room, probably got pretty drunk there. Got a ride back to Oakland to the Tankcrimes HQ. Drinking Piscos with the Peruvians.
7. MONDAY, MAY 16
What led to it: A tremendous intake of alcohol, aided by Aderal consumption at the Pins Of Light / Lecherous Gaze backyard show at the A.T. house and the Badr Vogu / Widower show at Golden Bull, coupled with relationship problems and some rare scene drama led to a deep and all encompassing mental and physical hangover, which left me depressed for days.
6. WEDNESDAY, MARCH 2:
"Was tremendously hungover. Don't remember how I got home. Couldn't really do shit all day. Almost got to the point where I was worried about making it to work at 6PM!"
What led to it: Left Golden Bull and went straight to the A.T. house, it was a night of tequila and cocaine.
5. SATURDAY, JULY 9
"Drove to Oaks to get some food, but realized I was so fucked up still, that I just parked the van by the restaurant and passed again out in the back seat. Woke up in an oven, soaked in sweat."
What led to it: Tall Paul's birthday party.
4. FRIDAY, JUNE 10:
"Got a little sleep."
What led to it: Got into Vancouver, BC that night for the "Have A Good Laugh Fest" karaoke pre-party. Over the course of the night I believe I tackled beer, whiskey, tequila, marijuana, aderal, cocaine and molly. There might have been more… I was up all night, I couldn't get to sleep at the place we were staying, so I got up and walked around Vancouver for hours in the early morning. I also failed to note the address of the house we were staying at, but I did take a picture of it on my phone, so I somehow found it again by walking around the neighborhood and comparing all the houses to my phone picture until I found the right one.
3. WEDNESDAY, JUNE 22
"I woke up on the floor of the Lily Pad, fully clothed."
What led to it: Went to see Venom, Inc. at the Metro. Over to Donovan's for a little bit, and finally over to the Lily Pad. I was doing coke the whole time. Last thing I remember is playing a dice game on the floor. When I woke up, I ate some of somebody's birthday cake that was still out, and dropped my phone in the toilet. I didn't get home from partying until 3:30PM, at which point I puked, then passed back out til like, 9PM.
2. SATURDAY, JULY 2
"I woke up on Carly's couch that morning, or early afternoon."
What led to it: It was Graham's going away party, or something, we were hanging out by the fire in Carly's back yard. I slowly got wasted over the course of the night, ended up REALLY wasted somehow. Turned into a sketchy dude, did some speed. At some point while I was blacked out, I decided to join Tinder, but I didn't realize that it pulls profile information from your Facebook page, on which I have my age listed as "96 years old." DAYS LATER, I realized that I had created this Tinder account, and it wanted to match me up with all these "older" women! I had to delete it.
1. FRIDAY, SEPTEMBER 23
"Woke up with the hangover of the year on Leo's couch. Called in sick to my job for the first time ever. Sat in Leo's living room for hours by myself because I was too hungover to even get on BART to go home."
What led to it: Got Municipally Wasted at the DNA lounge.
SPECIAL CATEGORY: TRIUMPHANT HANGOVER!
WEDNESDAY, JANUARY 27:
"Forgot to set my alarm, by the grace of god, I woke up at exactly 6:01AM, hungover as fuck, but awake! Made it to work, one minute late, but no one noticed because it was a big call. Worked 9 hours, probably the most hungover work day of my life."
What led to it: Lukas Krieg was in town, and me and him and Shane got drunk at Merchants, then Golden Bull. This is the special category triumphant hangover, because even though I got wasted and forgot to set my alarm, I still woke up and made it work! A true miracle!